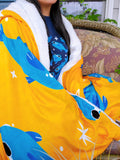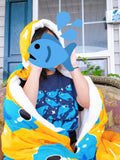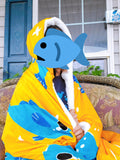 From the creators of your favourite frog-fish duo--Umvvelt & Rainylune have joined hands together once again to bring you another brand new collaboration!
Winter is coming... and so is the need to stay warm! This comfortable fleece blanket is made of soft polyester and is approximately 150*200 CM! The blanket also comes with a hoodie to bring you an even more comfortable experience while bundling up! Show off your love for Crybaby with this vibrant yellow blanket! 

Care for something a little more.... stabby? Check out Rainylune's matching design, featuring Son the Frog and his many many knives!! Get one. Or both. Many??? You can never have enough blankets. Do gender reveals but with anyone at any age. You're never too young to be declared baby. Or Stabby.