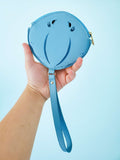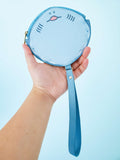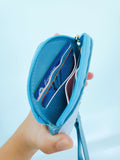 Did you know that stingrays are related to sharks? Although they are feared for their sting, stingrays are very timid and always prefer to avoid you if necessary! If you're in an area known to have stingrays nearby, always be sure to do the "stingray shuffle" to let them know you're in the area and reduce your chances of stepping on one!
This special card wallet measures about 13cm/5 inches wide and 11.5cm/4.5 inches tall! Featuring printed PU leather with embroidered finishes on both sides! One side features the top view of the stingray while the other side features the bottom view with mouth & gills! The interior features 4 slots, 2 on each side to hold a total of four cards (or card-sized items)!
The wrist strap "tail" measures approximately 6 inches long, making it the perfect companion to take with you on any trip!
Manta Rays Pinafore


$60.00

Underneath the Surf T-Shirt


$30.00