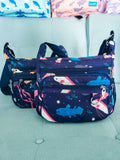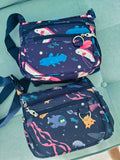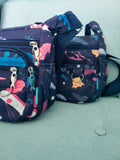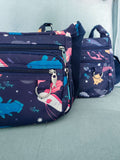 Did you know that more people have been to the surface of the moon than to the very bottom of the ocean?
From the world's largest invertebrate, the giant squid, to the scavenging deep sea isopod, the deep sea is home to some of the most incredible animals that can't be found anywhere else in the world!
Shoulder Bag features:
🐟 Adjustable 50 inch shoulder strap
🐟 Bag Size Approximately: 10*13*6 inches
🐟 D-Clip On the front pocket to attach accessories, such as keychains, lanyards, etc.!
🐟 Cute matching silver fish zippers on all compartments!
🐟 5 Compartments! (Main Compartment, back zippered compartment, 3 front zippered compartments)
🐟 Main bag compartment features two small pockets and a zipper pocket!
🐟 Printed on nylon fabric & inner bag features a grey lining to keep things nice and clean!
Please note that due to how this bag is manufactured that the pattern on the front of the bag will not all look the same/similar to the photos! The pattern will still be similar but might be cropped differently depending on how it was cut when it was sewn in!
Dark Abyss Deskmats & Wrist...


$10.00


Deep Sea Button-Up Shirt


$45.00