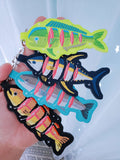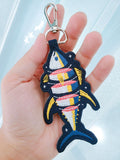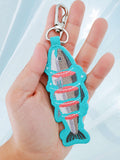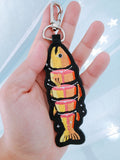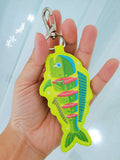 According to the UN's Food & Agriculture Organization, approximately 90% of the ocean's fish stocks have either been fully fished or are currently being overfished! 
As demand for seafood skyrockets, we are learning quickly that we're unable to sustainably keep up the demand for seafood without dealing devastating impacts to our oceans. Spark a conversation and learn about sustainable choices when it comes to your seafood! These embroidered keychians features 4 different species of fish (which are all sustainable food choices as of 2020) in 4 different colors in hopes to inspire people to consider their options when purchasing seafood.
SPECS:
🐟 Embroidered design on both sides!
🐟 Comes attached with a standard D-Clip and lobster claw clasps.
🐟 Length is approximately 4 inches.
RESOURCES FOR LEARNING ABOUT SUSTAINABLE SEAFOOD:
MORE ABOUT SEAFOOD SUSTAINABILITY

MONTEREY BAY'S SEAFOOD WATCH PROGRAM