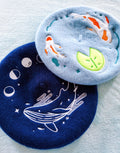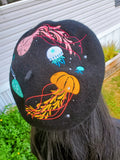 ➼ Embroidered on a wool & polyester blend beret!
➼ One size fits all, approximately 11 inches in diameter.
➼ Small embroidered logo on the underside is hidden when worn!
Cleaning instructions:
➼ Hand wash with cold water and a light amount of soap!
➼ Refrain from wringing the beret of water, use a towel to remove as much of the water as possible!
➼ Air/hang dry only! Please do not toss this in the dryer, it will damage the beret or cause it to shrink!