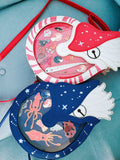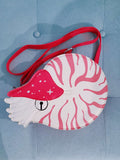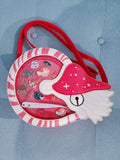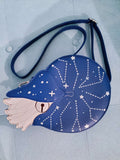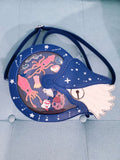 Known for their unique and distinctive external shells, nautiluses are a prime example of a logarithmic spiral shown in nature! 
Meet the Nautilus itabag! This bag is made of PU leather and features two different sides for two different ways to wear them! Flip one side for the non-window design to show off the full nautilus design in its full beauty or switch it to the clear window side to show off your most stylish enamel pins! 
✨Bag Specs:✨
🐚 Measures 10 inches long, 7 inches tall and 3 inches wide!

🐚 One side features full nautilus design while the opposite side has a clear window that can be accessed separately from the rest of the bag to hold and display pins!
🐚 Includes one insert per bag.
🐚 Detachable PU leather straps are adjustable in length up to 24 inches long (folded).
🐚 All enamel pins/accessories are sold separately and does not come included with the bag.