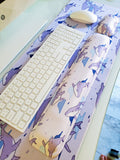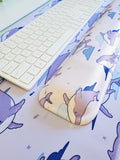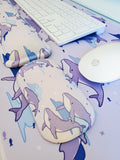 Everyone owns a computer or a laptop these days, whether it's for work, school, leisure or etc., a good computer looks even better with a good set up! These deskmats and wrist rests are perfect for adding a splash of colour to your every day set up! 
Details:
Deskmat size is approximately 30*80 centimeters (3 mm thickness).

Keyboard wrist rest size is approximately 44.5*8.5 centimeters (30mm thickness).

Mouse wrist rest is approximately 13*6.5 centimeters (30mm thickness).
All deskmats and wrist rests come with a rubber non-slip bottom to ensure that they don't slide around from their spots! The wrist rests can be placed on the deskmats as well and won't move from their spots (unless you want them to)!