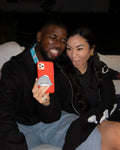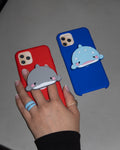 Rubber phone grips are here! They are made with PVC material and feature either one of two designs: great white shark or whale shark!

🐟💕 Phone Grips measure approximately 2 inches tall (from dorsal fin to bottom) and 3 inches wide (from fin to fin)! They can be rotated and angled to position your phone upright however you want!
🐟💕 3M adhesive on the back! Please allow the grip to sit on your phone undisturbed with a heavy item on top for about an hour before using so the adhesive sticks strongly!