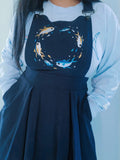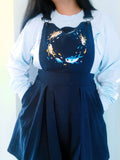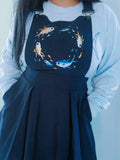 Tuna are some of the most incredible and important fishes in our ecosystem! They support a $40 billion dollar industry globally and play a huge role as predator and prey animals in the marine ecosystem!
With their population at risk due to ocean acidification, global warming, and overfishing it is crucial to understand the importance of the role they play and ensure the right precautions are
Pinafores are the perfect comfortable mixture of skirts and overalls! They're made of 100% cotton and feature a slightly elastic waistband (on the backside) with an embroidered design on the front! The skirt lengths are mid-thigh/above knee length and feature two invisible pockets to store all of your favourite goodies that your favourite (pocketless) bottoms weren't able to hold before 🥰🥰
Pinafore US Size Chart (CM)
**UPDATE: Size chart has been updated to new sizing as of 09/18/2022! Please double check the size chart for the most accurate size!
The fitting on this size runs smaller! We would recommend sizing up from your usual size if you like a little more comfortable fit!
| | | | | | | |
| --- | --- | --- | --- | --- | --- | --- |
| | S | M | L | XL | 2XL | 3XL |
| Length (Measured from top of bib to bottom of skirt) | 73 | 75 | 77 | 80 | 84 | 88 |
| Waist Circumference (+ 2-5 cm difference for elasticity) | 74 | 78 | 83 | 87 | 92 | 96 |