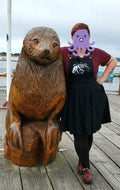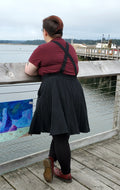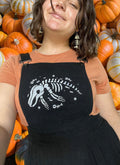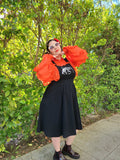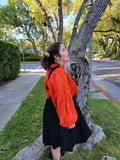 After a whale dies it sinks to the bottom of the ocean where their carcass can provide food and even homes for all sorts of unique animals! Commonly known as "whale falls," the rare and fascinating communities that whale falls attract can last anywhere from months to even years! 
Pinafores are the perfect comfortable mixture of skirts and overalls! They're made of 100% cotton and feature a slightly elastic waistband (on the backside) with an embroidered design on the front! The skirt lengths are mid-thigh/above knee length and feature two invisible pockets to store all of your favourite goodies that your favourite (pocketless) bottoms weren't able to hold before 🥰🥰
Pinafore US Size Chart (CM)
**UPDATE: Size chart has been updated to new sizing as of 09/18/2022! Please double check the size chart for the most accurate size!
The fitting on this size runs smaller! We would recommend sizing up from your usual size if you like a little more comfortable fit!
| | | | | | | |
| --- | --- | --- | --- | --- | --- | --- |
| | S | M | L | XL | 2XL | 3XL |
| Length (Measured from top of bib to bottom of skirt) | 73 | 75 | 77 | 80 | 84 | 88 |
| Waist Circumference (+ 2-5 cm difference for elasticity) | 74 | 78 | 83 | 87 | 92 | 96 |