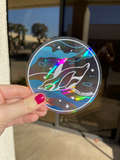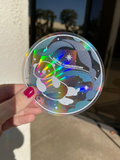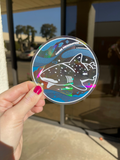 All profits of these window decals will be donated across 3 non-profit aquariums who have been impacted negatively as a direct result of COVID-19!

Did you know that ticket sales make up a huge portion of revenue for a lot of non-profit aquariums? This revenue always goes back to giving animals that call the aquarium their home the highest quality care possible! Expenses can be split between food, heat & cooling, enrichment toys, vet care, & many more!
As a result of COVID-19, many aquariums had to either drastically limit their visiting capacity OR shut down completely, resulting in devastating losses in ticket sales and, as a result, loss of revenue. 
 These decals were inspired by the poster animals represented by each chosen aquarium, along with a small fraction of their original mission statement! Each design correlates to the following aquarium:
Brighten up your day with these unique rainbow diffraction decals! They work best placed directly on any window with direct sunlight for the magic to appear! The clear decal allows for the design details to shine through while also letting the rainbow film do its work! 
Recommended instructions:
🐟 PLEASE NOTE that these decals are NOT meant to be placed outdoors and are not recommended to be placed on cars due to the possibility of distractions due to the light diffracting off of the vinyl material. It is recommended that you place them on an interior window that receives lots of direct sunlight!
🐟 Wipe the area you wish you display your decal with mild soap and warm water to clean it of any fingerprints, dust, or additional debris.
🐟 Place decal and adjust if needed-it is recommended you place them in a window that receives a lot of direct sunlight (east or south facing window)!
Each decal is approximately 4" tall and 4" wide! Please keep in mind that if purchased alone, these will be shipped out via lettermail with a stamp and no tracking! Please allow ~3 weeks for delivery if you are located domestically (USA) or 4-7 weeks if you are located internationally! Thank you!

Alien Invasion! Crewneck


$60.00


Aurelia aurita Enamel Pin


$12.00